My Blog
Posts for tag: teeth whitening
By Roya Levi, DDS
March 25, 2015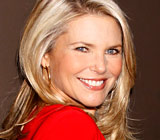 Christie Brinkley's world-famous smile has graced the covers of countless magazines for over 30 years. In fact, in her own words from an interview with Dear Doctor magazine, the supermodel said, "I think my smile was really my passport to success in the modeling industry." And while most of her smile's appeal comes naturally, Christie does give it a boost with good oral hygiene, regular dental checkups and tooth whitening. As Christie says, "When it comes to teeth, keep it as natural as possible. Do not go overboard on whitening. You want your teeth to compliment your face…your friends should not be required to wear sunglasses when you smile!"
Aside from some potential minor side effects such as tooth sensitivity, whitening teeth through bleaching is a relatively inexpensive way to brighten your smile conservatively and successfully. There are three common methods, as described below:
An external or vital approach where "vital" (living) teeth are bleached through direct contact to the tooth's surface.
An internal or non-vital approach where the tooth is whitened from the inside during a root canal treatment.
A combination approach in which both internal and external bleaching techniques are used.
But what causes teeth to become discolored?
Tooth discoloration can be caused by a traumatic blow to your teeth resulting in nerve tissue (pulp) death. However, there can be many other causes: consuming or using products that stain the teeth such as coffee, tea, cola, tobacco products and red wine, to name just a few. Aging is another factor, as it results in changes in the mineral structure of the tooth as the enamel, the outermost layer, loses its beautiful and youthful translucency. Other causes include exposure to high levels of fluoride; tetracycline, an antibiotic, administered during childhood; inherited developmental disorders and jaundice in childhood; and tooth decay.
The good news is that we routinely brighten smiles through tooth whitening. To learn more about brightening your smile, continue reading the Dear Doctor magazine article "Teeth Whitening." Or if you are ready to have your teeth professionally whitened, contact us today to schedule an appointment so that we can conduct a thorough examination and discuss your whitening treatment options. And if you want to read the entire feature article on Christie Brinkley, continue reading "The Secret Behind Christie Brinkley's Supermodel Smile."
By Roya Levi, DDS
August 25, 2014
If you're considering tooth whitening, you may be torn between using a home product and undergoing a professional application in our office. Here's a brief comparison of both approaches to help you in your decision process.
It helps first to know what we're trying to correct — that dull, discolored tooth stain. Tooth staining comes in two varieties: intrinsic, which occurs deep within the tooth and can be caused by aging, old root canal treatments, tetracycline antibiotic use or excessive fluoride intake during childhood development; or extrinsic, which occurs mainly on the tooth surface and is caused by substances like coffee, tea, wine or tobacco. Intrinsic stains can only be treated through an in-office procedure — the comparison we're making between home and professional whitening refers only to extrinsic staining.
Whitening, then, is the use of a chemical agent to bleach those stains. The majority of both home and professional products use hydrogen peroxide or carbamide peroxide (which also contains hydrogen peroxide) as its primary bleaching agent. Depending on the application, either of these chemicals can effectively bleach extrinsically stained teeth. The two approaches differ, however, in the strength of the bleaching agent: home products usually contain a 10% or less concentration, while professional solutions usually contain between 15% and 35%. As a result, the home application takes longer than a dentist's treatment to achieve desired results — two to three weeks as opposed to one or two office visits.
Whichever option you choose, remember teeth whitening isn't a permanent solution. The brightness will fade over time — six months to a year if you restrict foods and habits that stain teeth. You can also receive a touch-up once or twice a year to help extend brightness.
There's also a middle of the road option — you can use a home application with guidance from our office. It's also a good idea to visit us for an examination beforehand — we can then advise you on what options will work for your particular type of staining and teeth condition.
If you would like more information on teeth whitening options, please contact us or schedule an appointment for a consultation. You can also learn more about this topic by reading the Dear Doctor magazine articles "Teeth Whitening" and "Tooth Staining."