My Blog
Posts for: September, 2014
By Roya Levi, DDS
September 24, 2014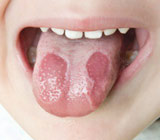 If you occasionally notice mildly irritating red patches on the top surface of your tongue, you may be one of the three percent or less of the population with a condition called benign migratory glossitis. It's also known as "geographic tongue" because the red patches often resemble land masses on a world map.
While the symptoms may be discomforting, geographic tongue isn't a cause for serious concern. The red patches are caused by the temporary loss of papillae, tiny bumps that grow on the surface of the tongue, which may appear and disappear repeatedly over a short time period (ranging from hours to days). As its medical name implies, this form of glossitis isn't cancerous or contagious; it's referred to as "migratory" because the red patches often appear to move around while changing size and shape. An outbreak can cause a mild burning or stinging sensation, and some people also encounter numbness in the patchy areas.
While there isn't a firm consensus as to geographic tongue's exact cause, there do appear to be triggers for it including stress, hormonal changes and mineral or vitamin deficiencies (particularly zinc and Vitamin B). There also seems to be a connection with psoriasis, a skin ailment characterized by redness and scaling — a number of people will experience both conditions. Geographic tongue appears more often in middle-aged, non-smoking adults, particularly women during hormonal fluctuations (as during pregnancy or ovulation). Individuals with deep grooves on their tongues called fissures are more susceptible as well.
There's no cure for the condition, but there are some treatments that can help alleviate any accompanying irritation. Depending on what we find during examination, we may prescribe anesthetic mouthrinses, antihistamines, steroid ointments or other treatments to help manage discomfort. It may also be helpful to limit your intake of foods during outbreaks that may increase irritation, including high acidic foods like tomatoes or citrus fruit, as well as eggplant, mint, spicy foods and alcohol (including certain mouthwashes).
If you experience these occasional patchy outbreaks on your tongue, please schedule a visit with us for a full examination. We may be able to reduce your discomfort and certainly put your mind at ease.
If you would like more information on geographic tongue, please contact us or schedule an appointment for a consultation. You can also learn more about this topic by reading the Dear Doctor magazine article "Geographic Tongue."
By Roya Levi, DDS
September 09, 2014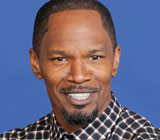 If you were a well-known actor, how far would you go to get inside the character you're playing in a movie? Plenty of stars have gained or lost weight to fit the role; some have tried to relate to their character by giving up creature comforts, going through boot camp, even trying out another occupation for a time. But when Jamie Foxx played a homeless musician in the 2009 film The Soloist, he went even further: He had part of his front tooth chipped out!
"My teeth are just so big and white — a homeless person would never have them," he told an interviewer. "I just wanted to come up with something to make the part unique. I had one [tooth] chipped out with a chisel."
Now, even if you're trying to be a successful actor, we're not suggesting you have your teeth chipped intentionally. However, if you have a tooth that has been chipped accidentally, we want you to know that we can repair it beautifully. One way to do that is with cosmetic bonding.
Bonding uses tooth-colored materials called "composite resins" (because they contain a mixture of plastic and glass) to replace missing tooth structure. The composite actually bonds, or becomes one, with the rest of the tooth.
Composite resins come in a variety of lifelike tooth shades, making it virtually impossible to distinguish the bonded tooth from its neighbors. Though bonding will not last as long as a dental veneer, it also does not require the involvement of a dental laboratory and, most often, can be done with minor reshaping of the tooth.
Cosmetic Bonding for Chipped Teeth
A chipped tooth can usually be bonded in a single visit to the dental office. First, the surface of the tooth may be beveled slightly with a drill, and then it is cleaned. Next, it is "etched" with an acidic gel that opens up tiny pores. After the etching gel is rinsed off, the liquid composite resin in a well-matched shade is painted on in a thin layer, filling these tiny pores to create a strong bond. A special curing light is used to harden this bonding material. Once the first layer is cured, another layer is painted on and cured. Layers can continue to be built up until the restoration has the necessary thickness. The bonding material is then shaped and polished. The whole procedure takes only about 30 minutes!
If you have questions about cosmetic bonding, please contact us or schedule an appointment for a consultation. You can also learn more by reading the Dear Doctor magazine articles "Repairing Chipped Teeth" and "Artistic Repair of Chipped Teeth With Composite Resin."